Following on from the Achilles M10 I completed earlier this year, here is the second of the M10 variants I have been working on: a 3-inch equipped tank destroyer as operated by the South African 6th Armoured Division in Italy from the second quarter of 1944.
It depicts a vehicle in the second battery of the 1/11 Anti-Tank Regiment in the camouflage pattern common to many of the vehicles used early in the South African's Italian campaign. Reference photos of these vehicles during the campaign show them to be heavily cluttered (and weathered), and I attempted to create some of that character. I think part of the excessive baggage is due to the South African M10s seldom being used in the anti-tank role - they were rather used as additional field artillery, and were often in static firing positions for extended periods.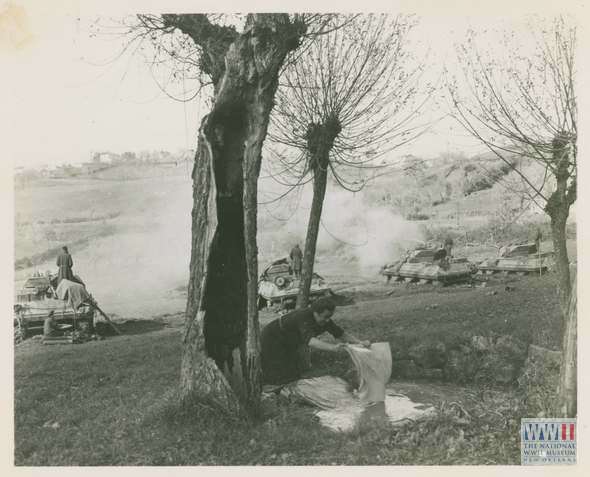 From ww2online.org: Captioned as: "17 Nov 44. 5/MM-44-30001. Fifth Army, Porretta Area, Italy. An Italian woman washes clothes behind a line of American made M-10 T.D's. of 3/24 A.T. Bat., 1/11 A.T. Regiment, S.A.A. 6th S.A.A. Division firing on German positions flanking Fifth Army front on Hwy [Highway] #64 near Bologna. Photo by Hartman. 3131 Signal Service Co." Porretta Area, Italy. 17 November 1944
The model is based on the now out-of-production resin kit from Warlord Games. I have mixed feelings about this kit, and about the resulting model. First, I built the bulk of it simultaneously with the Rubicon plastic M10, and the extra effort that all resin kits demand made it feel like a bit of a chore to build. Second, the kit, lets be fair, was a bit of dog from a fit and finish point of view. A lot of careful filling and filing was required to get the angular hull shape even vaguely acceptable. On the other hand, a lot of the characteristic details of the M10 are well represented, even if a bit exaggerated and cartoony, and it appears to have a bit of depth to it that the more accurate Rubicon kit seems to lack.
For the most part, the kit was built without modification. I found it was missing the driver and radio-operator's hatch covers, so these had to be press-moulded from another Warlord M10. I added the horizontal baggage rails (that appear in many of the photos) using styrene strip, and the stowage itself is an assortment of bits from Die Waffenkamer, Rubicon Models and Warlord Games. Crew member heads in berets were culled from Warlord British infantry packs. The .50 Browning and periscope gunsight were spares from the Rubicon kit.
Again, decals were a mix of bits from Marshall/Starmer, Dom's Decals and Warlord.